Structured Cabling Solutions in Qatar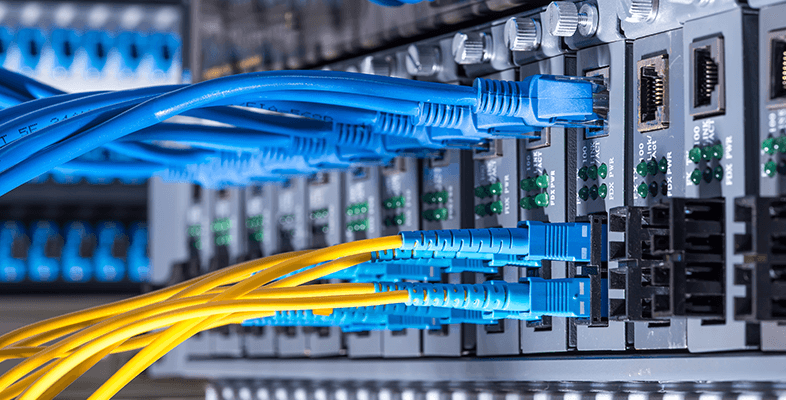 "Structured cabling" may lead you to believe that the system is only made of cables in your data center, but that's not quite the case. A structured cabling system actually runs throughout a building or across a campus, with different points and dedicated areas.
Besides cables, structured cabling solutions can include racks, network cabinets, hardware ports and more. All of these smaller pieces work together as part of the overall system.
The standardized elements that make up structured cabling are called "subsystems." These subsystems are typically located across a building, so it's important to know where they'll be in your business location.
The kinds of cables your structured system will use depends on your needs. They can be made out of copper or fiber, with different specifications. Here are some of the major types of cables used in a structured cabling system.
Fiber Optic Cable
Fiber optic cables are a lot like electric cables, except they're made out of optical fibers to carry signals and images. These optical fibers are made out of silica or plastic and coated with more layers of plastic inside the cable itself.
Different kinds of fiber optic cables may be used for long-distance telecommunication or high-speed connections between buildings on campus.
Twisted Pair Cable
Twisted pair cables are commonly used to connect residential homes and businesses with a telephone company. These kinds of cables date back to the era of radio and telegrams and were actually invented by Alexander Graham Bell!
There are two kinds of twisted pair cables:
Shielded twisted pair (STP)
Unshielded twisted pair (UTP)
UTP cables are used most commonly for telephones and computer networks. We will prepare a report which will identify your systems specific strengths and weaknesses – information vital to help implement the appropriate corrections, upgrades, and/or modifications to get your network "up and running" and keep it that way. Our full spectrum of products are listed below
Category 5e
Commonly referred to as "Cat 5e" is a twisted pair cable type designed for high signal integrity. It is often used in cabling for computer networks and is also used to carry basic voice services. Category 6 Commonly referred to as "Cat 6" it is used to carry Ethernet 10Base-T, 100Base-TX, and 1000Base-T (Gigabit Ethernet) connections.
Category 6
Commonly referred to as "Cat 6" it is used to carry Ethernet 10Base-T, 100Base-TX, and 1000Base-T (Gigabit Ethernet) connections. Cat 6 cable is backed with more stringent specifications for crosstalk and system noise than earlier cabling standards.
Category 6a
Commonly referred to as "Cat6a or Cat6 Augmented or 10gig" is the latest standard for enhanced performance standards for twisted pair cable systems. Category 6a is defined at frequencies up to 500 MHz twice that of Cat 6. Category 6a performs at improved specifications, in particular in the area of alien crosstalk as compared to Cat 6 UTP (unshielded twisted pair), which exhibited high alien noise in high frequencies. Multi-Mode Fiber Best suited for premise applications where links are.
Coaxial Cable
Coaxial cables are a type of transmission line, carrying high-frequency electrical signals with low loss. Coaxial cables are commonly used for:
Cable television
Telephone
Broadband internet
Computer data
Connecting radio transmitter and receivers to antennas