Solar Power Solutions with Solar Panels, Controllers in Qatar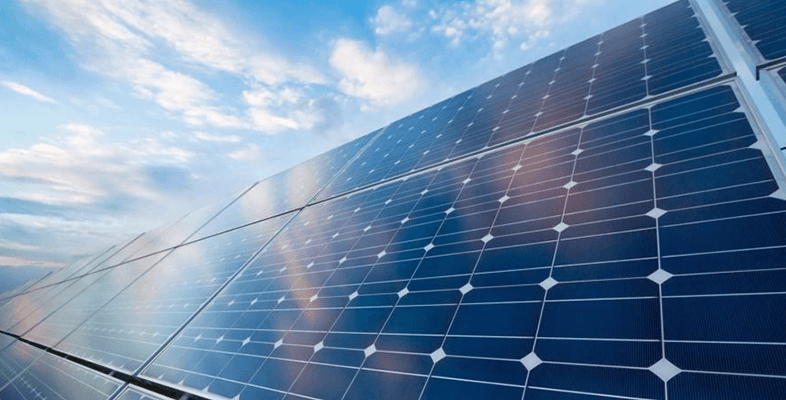 From sun to socket, no one provides more solar solutions. Gateway Services offers the industry's most comprehensive portfolio of products, systems, solutions and services to optimize the performance, reliability and return on investment of any solar installation – from residential rooftops to commercial and industrial applications and utility-grade power plants.
With a proven track record in solar solutions, global presence and expertise from solar systems to grid connection and integration to smart grids and micro grids, we are your expert partner.
1- ON GRID HYBRID SYSTEM
Modern hybrid systems combine solar and battery storage in one and are now available in many different forms and configurations. Due to the decreasing cost of battery storage, systems that are already connected to the electricity grid can start taking advantage of battery storage as well. This means being able to store solar energy that is generated during the day and using it at night. When the stored energy is depleted, the grid is there as a backup, allowing consumers to have the best of both worlds. Hybrid systems are also able to charge the batteries using cheap off-peak electricity (usually after midnight to 6 am)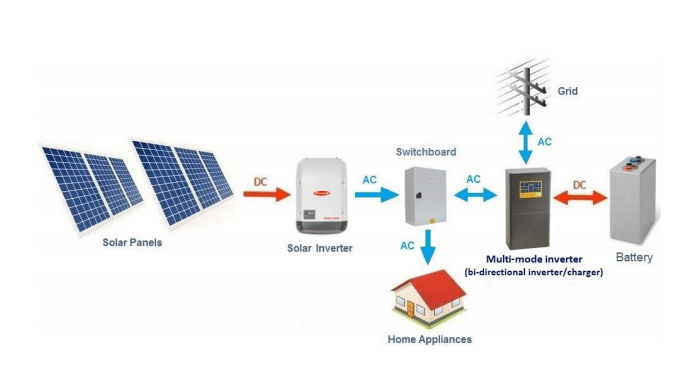 2- OFF GRID SOLAR POWER SYSTEM
One of the main types of the solar power system is Off-grid, also known as a stand-alone power system (SAPS). It works by generating electricity from solar panels and using it to charge a solar battery via a charger controller. That electricity is then converted using an inverter so that it can power the home or business appliances. By saving the electricity in a solar battery, it is possible to run home with solar energy, even at night or during times when there is less sun exposure.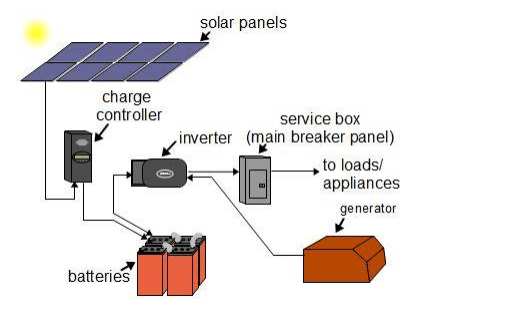 THE BATTERY BANK.
In an off-grid system there is no public electricity grid. Once solar power is used by the appliances in your property, any excess power will be sent to your battery bank. Once the battery bank is full it will stop receiving power from the solar system. When your solar system is not working (night time or cloudy days), your appliances will draw power from the batteries.
BACKUP GENERATOR
For times of the year when the batteries are low on charge and the weather is very cloudy you will generally need a backup power source, such as a backup generator or gen-set. The size of the gen-set (measured in kVA) should to be adequate to supply your house and charge the batteries at the same time.
SOLAR-WIND HYBRID SYSTEM
Other solar hybrids include solar-wind systems. The combination of wind and solar has the advantage that the two sources complement each other because the peak operating times for each system occur at different times of the day and year
3- PV DIESEL HYBRID SOLUTION
PV diesel hybrid solutions from SMA create independence from fossil fuels and reduce operating and maintenance costs. This is efficient, low maintenance and saves resources in the diesel-off mode, the diesel generators are switched off completely. The electricity supply remains fully intact with the same, or even improved, grid quality. The SMA Fuel Save Controller ensures fully automatic system operation. It reliably monitors and controls the interaction between solar and diesel energy, both in grid-connected as well as in hybrid systems
4- SOLAR PUMPING SYSTEM
A solar water pump or a solar photo-voltaic water pumping system is a system powered by solar energy. It is just like the traditional electric pump with the only exception that it uses solar energy instead of fossil fuel or electricity. It consists of one or more solar panels, also known as solar photo-voltaic modules, a motor pump set, electronic controls or a controller device to operate the pump, the required hardware and in some cases, other items like inverters.
A solar water pump is used for extracting water from ponds, rivers, bore-wells or other sources of water which are then used to meet the water requirements for irrigation, community water supply, livestock and other purposes.
As mentioned earlier, it works like any other pump set with the only difference being the solar energy used instead of nonrenewable energy for its operation. When sunlight falls on the solar panels it produces direct current (DC) which then feeds the motor to pump out the water. However, in the case where the motor requires an alternating current (AC), the DC produced by solar panels is converted to AC using an inverter.
5- OFF GRID SOLAR POWER SYSTEM WITHOUT BATTERIES
An off grid solar power system without batteries means during the day time the PV Panels can be used to generate electricity than consumed directly so no batteries backup. The used inverter is special and designed for this kind of applications.